Haruka Hoshimiya (星宮 はるか, Hoshimiya Haruka) is one of the main characters of the Active Raid anime series. She is the will wearer of the Oscar 3 exoskeleton and one of Unit 8's operators.
Personality
[
]
Haruka is often very cheerful and upbeat who considered to be a bit of a railroad Otaku.
Willwear
[
]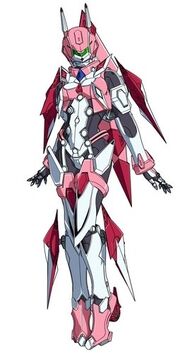 Mettie Structure ibuki (メーティストラクチャーibuki, Mettie Structure ibuki) is Haruka's custom willwear which specializes in multi-task information processing. Also equipped with stealth capabilities which is a heavy consumption on battery power.
Etymology
[
]
Haruka's surname Hoshimiya means "star" (星) (hoshi) and "temple, shrine, palace" (宮) (miya).
Trivia
[
]
Haruka got many hobbies and a great love for trains and "all kinds of things made by people".
Gallery
[
]